Thinking about joining the Band?
NOTICE: We particularly need tuba players, clarinet players and percussionists. Please come to a rehearsal and find out how much fun the Richardson Community Band is.
We welcome you to attend a rehearsal with or without your instrument to see and hear what we are like. If you bring your instrument, the Section Leader will show you where to sit.
The Richardson Community Band plays some fairly challenging music and performs at least 14 concerts each year. Maintaining the high quality of these performances requires that each member attend every scheduled rehearsal.
We work hard, but we have fun at rehearsals because our conductors are great people and each has a big sense of humor. Still, we have a lot of music to learn and rehearsals are fairly intense. Often, it is necessary to take some music home for extra practice. The result is the joy of giving a satisfying musical performance. Our audiences appreciate us, usually giving us a heart-felt standing ovation.
We do not have a formal audition process; however, in order to assure that the quality of the Band is improved by each additional player, we have two criteria that determine whether a prospective member is accepted for membership:
1) We will only add new players to a section after the Section Leader has assessed the player's ability by listening to him/her play with the Band.
2) If a section is already larger than needed to balance other sections, we may choose to wait before adding additional players.
We want you in the Richardson Community Band. Our primary goal is to get you back into music and performing. If one of our sections is full, please check these links to other area community bands.
If you would like more information, please email the Band officers.

Rehearsals
We rehearse almost every Wednesday evening in the Westwood Junior High band hall located at 7630 Arapaho Road, Dallas, Texas 75248. Rehearsal begins promptly at 8:00 and ends at 10:00 with a break at about 9:00.
X marks the location of the school:

The Band Hall is at the far east side of the school: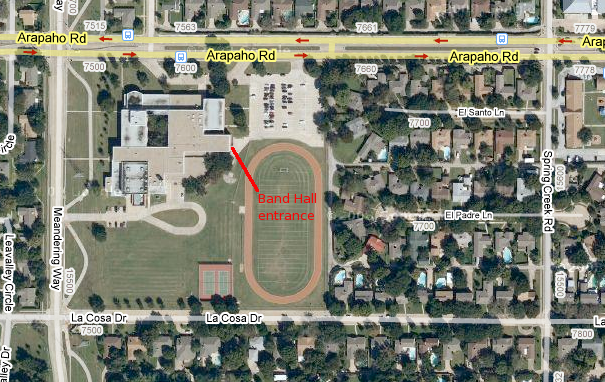 Links
City of Richardson Information
Blasmusik Texas or The Texas All-State German Style Band